The SolarEdge Installer Fundamentals and Expert training courses are now accredited by The Continuing Professional Development Standards Office (CPDSO).
To celebrate we're giving away vinyl van stickers when you complete each course - and you can enter a prize draw to win SolarEdge branded goodies by posting yours on LinkedIn.
Find out how CPDSO hours / points apply to you and your career here.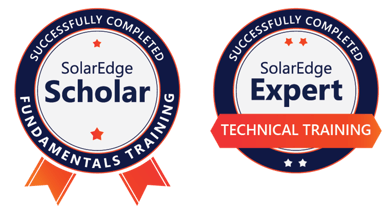 Claim your Van Stickers
Get recognised and let your customers know you're a #SolarEdge Pro! As well as receiving your badges electronically, for a limited time, you can now also get a vinyl, die-cut van sticker for the EDGE Academy Fundamentals and Expert Installer courses.

To claim your stickers, please complete your contact details below, upload your certificate(s)* and we'll pop them in the post. You can apply for each one individually or both together. If you've already completed the training courses, you can apply for your stickers right away.
Enter the Competition
Post a photo of both of your EDGE Academy stickers on LinkedIn, tagging us @SolarEdge Technologies and accompanied by the hashtag #SolarEdgePro, and we'll pick 5 winners each week to receive a lucky dip, branded SolarEdge prize. We have lots of SolarEdge goodies to give away including clothing and drinkware.

Get Started!
To claim your van stickers, please complete the form below. You must be based in the UK or Ireland to qualify for the giveaways and prizes. Please read our Terms & Conditions here.
The competition ends on 30th September 2022 so if you haven't started your SolarEdge learning journey, why not enrol today?
If you don't yet have an account, click here for how to set up your account and for FAQs.
* 1 sticker per certificate.

Complete the form below for your stickers: